Instrumentation
CU02 Staging / Load Sequencing Controller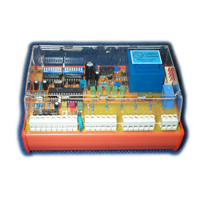 LSC2-Logic
Click image for larger view


FEATURES
Up to 6 Stages in one unit

Directly interfaces to low cost logic input thyristors or to contactors

Built in Burst fire or Single Cycle Control Algorithms

Separate analogue output may be used with phase angle thyristors

Allows modulating stage oversizing for stable control

Stage rotation facility to balance heater usage

GENERAL DESCRIPTION
The CU02 load sequencing controller is designed for use with a large process heating system which is split into several banks of heaters, all of which apply heat input to the same heating load. The staging controller balances the required heating demand by switching on the number of stages (heater banks) which most nearly match the demand, and modulating one additional stage to make up the difference. Versions are available with combined relay + logic outputs and all logic outputs. A single analogue output is also provided. Relay + logic types are used with contactor stages + 1 modulating thyristor stage; all logic outputs are used when all the stages are controlled by thyristors. The analogue output may be used to drive one modulating thyristor which accepts a standard analogue input signal if preferred.
The staging technique provides the following advantages:-
1. On large electric heating systems the load is broken into banks of a smaller kilowatt rating, and the maximum size of load being switched on or off at any one time is reduced. This reduces the magnitude of switching disturbances on supply lines, and is particularly useful where the load represents a significant proportion of the supply capacity.
2. On systems where the load demand does not frequently vary over a wide range the non-modulating stages may be contactor controlled, and the modulating stage thyristor controlled.
This controller is widely used in process heating applications, including fuel oil heating, and in the petrochemical industry.
More detailed product information is available on our downloads page